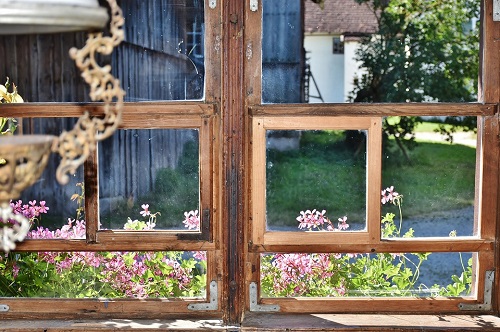 When it's time to replace those worn-out windows in your home (or business), you'll have many things to consider.
Does the installer know (and use) the best installation techniques?
Are the windows manufactured locally, and designed to hold up to your specific environmental conditions?
What, exactly, are the materials from which these new windows are made?
Replacement windows are manufactured today using a variety of materials. Wood, fiberglass, and aluminum windows are still sold and installed by the thousands. But the "king" for replacement windows, hands down, is vinyl.
If you want durable, energy-efficient, cost-smart and good-looking windows, you can't do better than today's high-quality vinyl replacement windows.
Vinyl's Durable
The best vinyl replacement windows are more tough and long-lasting than anything else on the replacement market.
They don't rot, or attract insects, the way wooden windows can.
They don't need painting, staining, or any kind of finishing.
They don't need maintenance! (Well, you might want to wash them occasionally, like you would any windows.)
Today's "rigid poly" vinyl products are nothing like the "plastics" of decades-gone-by (the kind they used to use to make everything from toys to tents).
For the very best in dimensional stability (how well the window holds its shape), you can't beat vinyl.
Vinyl windows are superior in resisting heat, impact, and everything the weatherman can throw at them. They're also tops in weight tolerance (a key),
Other materials can compare with vinyl on some of these characteristics, but when you analyze the different material options along all of these dimensions, the advantages of vinyl for replacement windows are clear.
Vinyl's Energy-Efficient
One of the main reasons you're replacing your windows is to save some money on your energy bills… isn't it? That's another reason you want replacement windows made of top-quality energy-efficient materials.
And that means vinyl. Vinyl replacement windows are non-metallic. So, unlike aluminum windows, heat can't easily get through vinyl replacements (neither "in" during the summer, nor "out" during the winter).  Wood and fiberglass products can make the same claim… but have you priced those window options lately? If you have, you'll appreciate the low initial cost of your new vinyl windows.
No other windows can beat vinyl in terms of thermal properties and insulating ability in a cold climate. And if you add the right type of glass panes, you get windows Old Man Winter just can't get through.
Vinyl's The Cost-Conscious Choice
You can buy cheap aluminum replacement windows that carry a lower initial price-tag than the best windows on the market (vinyl). But in the long run, you'll be sorry you "cheaped out."
Let's be realistic: those new windows will be on your house or shop for many, many years. (At least, they will be if they're made from durable vinyl!) Over that period of time, you'll spend much more on lost heat and air conditioning expenses with aluminum windows than you'd have spent with the energy-efficiency of vinyl replacements. Far more than the initial difference in price.
As I mentioned earlier, your long-term costs will be comparable with wood or fiberglass… but you'll get sticker shock from what you'd have to pay for those windows up-front. The simple fact is that, long-term, vinyl replacement windows will look much better on your bottom line.
And Vinyl's Beautiful… Today, Tomorrow, And For Years To Come
Speaking of looking good, that's what vinyl replacement windows do… not just for a few weeks or months, but for years and years. Did you know that replacement window manufacturers who use other materials don't warranty that their windows won't show color fading over time?
At least one outstanding manufacturer of vinyl windows – Amerimax – offers a warranty that specifically warrants color retention for the life of the product. And that's without painting, staining, or other expensive (and time consuming) maintenance. Ever!
Your replacement windows represent a big investment, as well as one of the most important projects you can undertake to improve your home or business space. Go with windows you can rely upon for durability, energy efficiency, cost savings, and good looks for years to come. Go vinyl.