There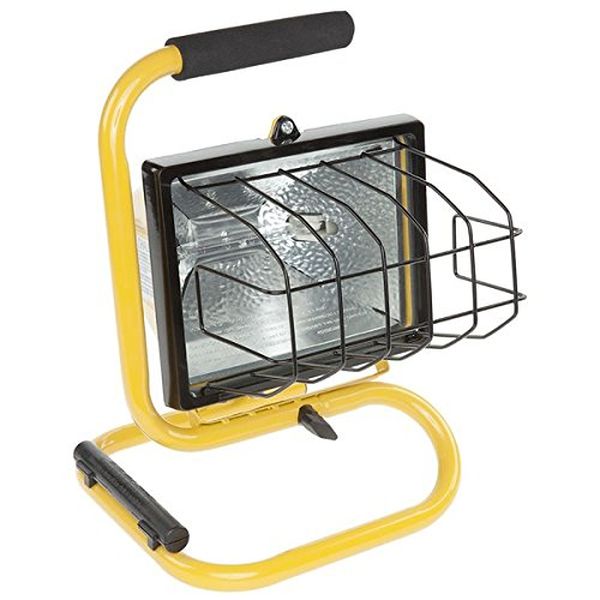 are many different types of work lights to choose from and different purposes. Choosing the right work light will make a huge difference to your work, particularly if you intend to spend long lengths of time in the dim/dark. From the builder to the photographer, there are work lights for everyone.
Flood lights
As suggested the light focus isn't a singular point but an outward spray, intended to light a large area. Typically these lights have always been halogen, using a linear bulb but recently the step into LED meant they also got a make over. LED flood lights can have many LED's in them, some of the smaller ones can have as many as 42 LED's, imagine the possibilities.
Portable work lights
These are very handy and versatile. They normally come with handles and are free standing, low to the floor. Many builders and decorators use these, they are very common. In fact I know a photographer that also uses them for extra lighting when she is out and about with her roaming studio. Again these are normally or commonly halogen, especially the corded types but they have also moved into LED providing much brighter lighting.
As well as corded you can now get them as a rechargeable unit which is an added bonus.
Inspection work lights
Often seen when working on cars, in attics or small spaces. Their benefits include a long cord, several meters and a hook to hang it. The old fashioned types take a normal bulb but I am assuming you can now get an LED work light if you prefer to be more energy efficient.
Handheld work lights (Also known as handheld inspection lights)
These small and rather helpful lights come in a range of different sizes and functions. Here are a few variations –
10″ rectangular, 30 LED, two functions (flashing or static), pocket clip, magnetic
8″ small cylindrical type, has the same functions as above but with two source points so it can be used as a torch or to flood a larger space.
Round button type, has a hook, great for small spaces where you need to switch between hand held or hanging.
Again these can be battery powered or rechargeable units
Tripod / freestanding work lights
These are normally a tripod stand that can hold as many as four (sometimes more) flood lights. Again these could be halogen or COB LED. Work men are often seen using these on building sites or small site maintenance, they are easily transported and effective.
Freestanding fluorescent bulbs
These are categorized as uplights as it is literally a fluorescent bulb stood upright under a stand. A great variation and allows light to be thrown in all directions unlike traditional flood lights. Using these coupled with focus lights will give great coverage.
Each work light comes with it's own advantages and disadvantages but you will always find one to suit your job. With newer models moving into the LED systems, providing high quality lighting is becoming easier and affordable.