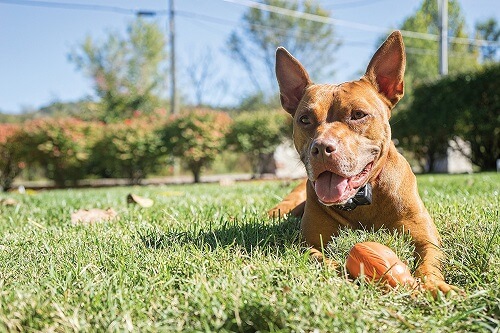 Giving your pet a safe and secure area to play is one of the best ways to show your love.  As a pet owner, the best way to do this is to install a wireless dog fence in your yard today!  These systems ensure your dog with a safe zone to roam, restrict them from entering neighboring areas, and are far superior to other alternatives.
Some owners opt for chain-link, wood, or vinyl fences, but these options come with many drawbacks.  Not only are they much more costly, they are also permanent fixtures to your property that alter your landscape and will need regular maintenance and upkeep.  Some neighborhoods and cities have fencing laws that restrict owners from setting up barriers at all.
Why add another chore, when you can easily setup a wireless dog fence for a fraction of the cost of other alternatives?  Protect your pet from traffic, strangers, and mischief outside the boundary while giving them the freedom and safety to be within your yard.  No more objects to mow around, no more unsightly fences to paint year after year – just a carefree area for your loved animals to roam and play!
Why a Wireless Fence?
Pet owners who use an invisible fence system avoid the pitfalls unpleasant yard fixtures, but why make the transition to a wireless fence?
First of all, these options are a small fraction of the cost of digging up and burying an underground "invisible" fence.  They're much easier to install, and they're portable – a great option for owners who travel regularly with their pets, who rent their property, or who plan to move in the future.  Finally, many models will give your dog an audible signal as they approach their boundaries, and if necessary a light corrective pulse.  Often, these audible signals serve to train your animal, so they won't experience the corrective pulses at all!
Installing such  a device is as easy as plugging in the transmitter to a power outlet, adjusting the range of boundaries on the device, and securing the receiver collar onto your dog. After walking the perimeter and training your animal what the boundaries are, such signals will serve to constantly reinforce their limits and remind them to stay closely within your property.  This system is setup in a fraction of the time of other alternative, is less costly to purchase, and provides built-in audible signals to train your dog!
Things to Consider When Choosing a Wireless Fence
In selecting which fence to purchase, there are several considerations to keep in mind.
First, you want to make sure that not only does the package contain a battery pack and transmitter that meet the needs of your area, but also that the collar is going to be comfortable for your dog.  Don't purchase a system without ensuring that the collar will fit properly and won't cause your dog undue stress or discomfort!  Check the upper and lower size and weight boundaries to make sure you're purchasing an option that will keep your dog pleased.  Note that the collar must be waterproof to ensure it will function properly if it becomes wet.
Once you've narrowed your search to the choices that will be comfortable for your dog, make sure it will meet your needs as well.  The biggest concern here is that the system will transmit a signal to the area you need it to – no matter how big or small.  Some transmitters can cover up to an area of 25 acres, others are better for a small half-acre lot.
Also consider the type of signal that the collar will provide when your dog approaches the boundary.  Some owners prefer an audible noise and others may opt for a vibration.  Different models offer varying degrees to which a signal can be emitted – from a dull vibrate to a loud beep.  All animals will respond differently to such indicators, so consider which responses might work best for your dog.
Another consideration is whether the systems includes training flags, and how many you may need.  Some owners opt to train their dog manually with walkthroughs of the boundaries, others leave the flags in the ground indefinitely.  Again, each animal will respond differently so it's nice to keep your options open.
Recommended Options
All animals are different, and all owners have different needs.  As such, there is no one-size-fits-all option for purchasing an invisible wireless fence.  However, there are a few systems that tend to stand above the rest:
This option has no in-ground installation requirements, uses a great collar, contains 50 boundary flags, and reaches a ninety-foot radius from the transmitter.  Owners can connect an unlimited number of pets to the system and it comes with a thorough training guide.
PetSafe Stay + Play Wireless Fence
PetSafe also provides owners with a portable option that is easy to pick up and setup anywhere on-the-go.  The diameter maximum is 210 feet, which is slightly larger than the system above.
Havahart Wireless Radial-Shape Select Fence
This model allows owners a lot of flexibility in that it functions with up to an 11-acre diameter.  This is among the best options for large areas and also includes 75 training flags.  The system also contains a feature to correct your dog for 30 seconds if they attempt to leave the perimeter, turning off once they reenter.
Friendly Pet Products Wireless Dog Fence
For owners that cannot use a circular, diameter-shape for their properties, Friendly Pet offers an excellent fence that will cover up to 5 acres of space.  Owners do have to bury a cable to surround the perimeter area, but this allows pets to maximize the property regardless of what shape it is.
Sit Boo Boo Hidden Dog Fence
Another strong contender is made by Sit Boo Boo, which contains solid copper wire to lay and can transmit a signal to up to 5 acres.  The cable may lay above or below ground, which provides owners with flexibility in setup.