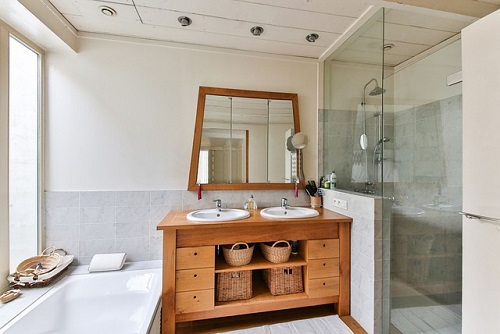 Every year brings with it a few surprises and it also conforms to traditional favorites. Bathroom remodeling is no different. The most popular bathroom remodeling trends of 2017 have been a mishmash of state of the art technology and rewinding the clock back to cherish the classics. Here's what homeowners across the country, with the help of bath remodeling Trenton Michigan, have been using for their bathrooms over the last twelve months.
Fresh Tile
A new tile is often at the heart of bathroom remodeling. Indeed many projects focus only on the wall and floor tiles without changing much else. Porcelain tile is the default choice for a bathroom of every homeowner who doesn't mind its price and want its durability. The fact that it is the most reliably nonporous material strengthens its supremacy over others. 2017 combined the mighty physical strengths of porcelain tiles with the aesthetics of hardwood. Porcelain tile with the look of hardwood has been one of the favorite bathroom remodeling trends, so have been mermaid tile or fish scale and textured natural stone. For many years now, man made tiles or materials have been replacing natural stones. 2017 saw the emergence of engineered stone that fittingly replaced marble. It is no secret that the likes of quartz and obviously porcelain are more nonporous than marble. With aesthetics as appealing as spotless and splendorous marble, quartz and porcelain along with other engineered stones invaded American bathrooms throughout the year.
New Décor
Décor has been always one of the fundamental focuses of homeowners. Many have chosen the classic dados and farmhouse styled décor. Many have chosen chic settings with decorative shower niches, accents and glass tiles. Bold and classy have been the distinct preferences of homeowners and both have made their way into our list of favorite bathroom remodeling trends of 2017. Homeowners have not shied away from an impeccably white décor, from white floors to white backsplashes. Many have equally welcomed darker shades, albeit mostly black for its bold elegance. Pink has made a comeback. Once a favorite for kids bathrooms, it was extensively ignored in recent years but it is here again, be it the subtle or the brighter shades of the hue.
Bathroom Tech
Today, it is almost impossible to have a bathroom not married to technology. Many homeowners have invested in heated flooring and we love it. Not every bathroom needs to have a heated floor, only the master bath would suffice. In all fairness, it is indeed a luxury and not something millions of homeowners would consider. However, the pleasure of stepping on a warm floor when the air outside threatens to pierce through the skin is unparalleled. Given the progress made in energy efficiency, the recurring costs are not much of a concern. The installation too is easier than you would think. Another piece of technology that has seamlessly blended in with contemporary bathrooms is wireless speakers. We love the recessed speakers in the ceiling or the showerheads that can stream music. Another major improvement has been in the department of sensors, be it the motion sensors used for automated lights or the proximity sensors used in automatic faucets.