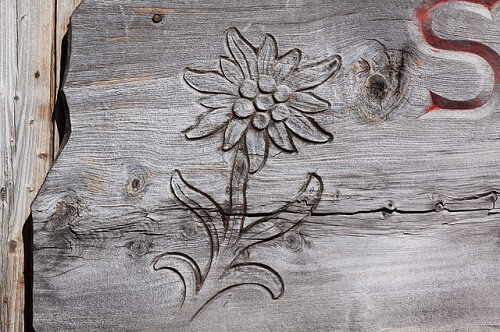 One of the many projects that do-it-yourself types involves engraving photos or images on wooded plaques or natural wood slabs. They use family photos, photos of their kids, grandkids, mother, father, and/or other loved ones to memorialize them on a plaque that is promptly displayed on a feature wall or as a collage, depending on the size of the project.
DIY is a big trend in home improvement nowadays and laser engraving machines are making a splash in that trend. Before engraving on wood, it's important to know the top best three wood species for laser engraving. The following will discuss the basics of wood photo engraving.
Resin Content
The first thing to know is that higher resin content is vital to laser engraving. Wood species with a lot of sap helps create detailed, darker burns, resulting in better graphics on plaques. Without a lot of sap, the laser merely vaporizes the wood, leaving behind a minimal burn.
Streaking Effects
Stripes are beautiful on zebras, but no so much on photos, unless that's an effect you want for one. Wood species already have a natural grain pattern that creates some streaking, but you probably don't want a wood species with a heavy and varied grain pattern across the piece you're engraving.
Contrast
Just like in image editing, contrast is an integral part of laser engraving on wood. The goal is to see the details of the sentimental photo or image, which relates to the contrast. Lighter wood species provide an ideal canvas for contrast along with limited wood grain patterns and high resin content. Consider how dark or red wood tones will affect how the eyes look in the engraving as well. If you use dark wood, you will likely have few details of the image at all.
Top 3 Wood Species for Laser Engraving
Alder wood is light in color and has a high resin content. Streaking is less of a problem with alder wood, making it almost the perfect wood for photo engraving.
Cherry Wood, more specifically, blonde cherry, commonly a light-colored wood with a high resin content. You must carefully choose cherry wood because of the higher possibility of streaking on the images you create. Even with the streaking, cherry wood still makes a nice species for most of your photo engraving projects.
Pacific Coast Maple is considered a super wood if you're engraving photographs on it. It's a light-colored wood that burns dark for great details in images. The only issue with this wood species is in its inconsistent resin content. You might find that one piece of this wood engraves beautifully, but the next one might make you say "What is that?" because you got very little image and tone from it.
What You Need for This Project
This is a home décor project that requires that you have the right equipment and supplies.
Laser engraving machine – Laser engraving systems range in price from a few thousand dollars to over $40,000.
Windows OS computer with Adobe, CorelDraw, and AutoCAD – You can use a laptop or desktop computer with these applications installed.
Natural wood slabs or plaques – Hobby stores online and offline carry natural wood slabs or plaques you can use for engraving.
Some skills with Adobe, CorelDraw, and AutoCAD – There may be a learning curve if you've never used these applications, but once you get the hang of it, you'll wonder why you didn't try this sooner.
Take note and remember these factors of engraving images on wood before you undertake this kind of project. Have fun and happy wood engraving!