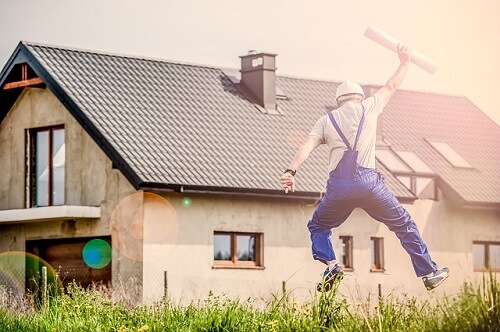 Buying a home is one of the most significant purchases you can make, but it's still so surprising to see people question a few hundred dollar pre-purchase building inspection or worry that the outcome of the inspection will cost them money. In fact, it's often the opposite.
Getting a pre-purchase building inspection is for your benefit, and the tenants if you're going to turn it into an investment property. A pre-purchase inspection report can be used as a negotiation tool to reduce the purchase price, it can potentially save you thousands of dollars you may have had to spend on repairs and can also pick up some nasty and often dangerous surprises that may be missed without an inspection.
Here are a few reasons why you shouldn't skimp on a pre-purchase building inspection:
Manage your money more effectively
Having a budget in mind for a property you'd like to renovate is a smart move, however, if you decide not to get a pre-purchase inspection, you may as well throw your budget away.
Purchasing a property without a pre-purchase inspection leaves you open to loads of potential repairs and problems not within your budget. Wouldn't it be better to know exactly what needs to be done, negotiate the purchase price and have a more concise budget?
Avoid serious structural problems
Have you heard about the incidents where people have gathered on verandas and decks only to have them collapse under the weight, injuring and killing the victims? This could happen to you, your family and friends if you were to purchase a property without an inspection and it's just not something you DIY unless you're a fully experienced and qualified building inspector yourself.
A pre-purchase inspection is carried out by an experienced and qualified inspector to ensure a building is structurally safe. They also make sure a property conforms to Australian building codes and standards. If the property doesn't conform, it cannot be sold until these are rectified. This could end up being on your shoulders if you don't get an inspection and purchase the property.
Identify hazards
Not only are structural problems serious, hazards like faulty stairs, loose balustrades and asbestos can put you or your potential tenant at risk of serious injury or illness. A pre-purchase inspection will not only identify these issues but gives you the opportunity to decide on going forward with the purchase or not knowing you will have to make repairs or potentially undertake a renovation with extra asbestos removal costs.
Smoke alarms and electricals
Another important safety aspect is smoke alarms. Do you know what the standards are? A licensed building inspector does. In Australia, licensed building inspectors are fully versed on AS3786 and the requirements of smoke detectors and know whether a property satisfies the standard or not.
Also, a quality inspector will identify issues with electrical wiring. As with smoke alarms, electrical wiring should be attended to by an electrician, however, a good building inspector will know what to look out for and report it.
Assess additional structures
A house isn't the only thing assessed during a pre-purchase building inspection. Structures like carports, external garden sheds and garages, BBQ shelters, retaining walls and fences are also included. In addition, a pre-purchase inspection will consider council regulations and determine whether or not additional structures comply. Not having a pre-purchase inspection puts you at risk of purchasing a property with non-conforming structures which you may have to pull down and seek approval to rebuild appropriately.
It doesn't make sense to be making one of the biggest purchases of your life and not outlay a small sum for a pre-purchase inspection. Taking such a big risk could turn the biggest purchase of your life into the biggest mistake, costing you more than you'll ever make on the property.
A pre-purchase inspection by a professional is peace of mind for you, the buyer. Making a decision armed with information is the best way to purchase a property.