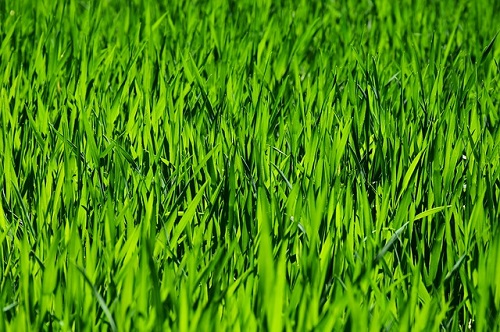 Having a full green lawn is what most homeowners strive to achieve. If you live in a region where it is hot or dry, having plush green grass that grows is not always easy. This might require you to try a grass growing method that is designed to leave you with impeccable results. If you have a bunch of dirt around your house instead of lawn, you have other options for grass growing besides traditional sod. Sod might be the most popular and the tried and true method but grass seed and hydro seeding are not far behind in popularity and results. When you are looking to grow grass fast, it is important for you to know which method will work best.
Sod
One way to get grass fast is to go with sod. Sod involves the use of large bricks of grass that are placed into the ground for an instant lawn look. The squares of sod are placed throughout the entire yard for an instant lawn look that is impeccable. If you want grass that is green fast, this is the method that will work best for you. The only downside is hat sod doesn't always wear well over time.
Hydroseeding
If you are interested in the future of grass growing, it is time that you learned more about hydroseeding. This is a method for grass growing that is gaining a lot of popularity but also very different from the other methods. Hydroseeding is so unique because it involves all of the different elements of lawn care in one step. The mixture that is sprayed into the ground contains seeds, mulch and fertilizer. It is sprayed using a hydraulic sprayer to give it more reach than normal. And the best part is that hydroseeding services are becoming cheaper and cheaper every year as the method increases in popularity, which means taking advantage of this new grass-growing technology doesn't necessarily mean you have to break the bank.
Grass Seed
Many people assume that the most expensive grass growing method is the one that is the most effective, but this is not always true. Sod is actually the most expensive grass growing method that you can try. However, it does not always offer the best results. You just need to know what to look for in the grass growing method.l that will be best for you. Grass seeds might be the most traditional and affordable method, but it can also often be the most effective. Grass seeds that are planted I. The ground will grow into grass. If growing grass over time is something that you prefer, grass seeds could be the option that you choose over sod and Hydroseeding. Sometimes the easy choice is obvious.
Consider Your Time Frame
It ultimately comes down to how fast you want your lawn to grow when you are choosing a grass growing method. This is the factor that will matter the most and the one that will vary depending on the method that you choose. If you do not have a lot of time to waste when growing grass, sod might be the ideal choice that you go with.