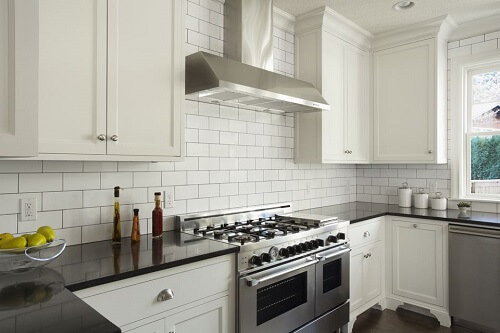 Glass subway tiles are a timeless choice for many homeowners, as they offer a fresh and stylish look in a kitchen backsplash tile design. Once you have the tiles in your possession, you now have to fit them, which can be easier said than done, especially if you have never done this before.
If you have purchased subway tiles which are rectangle in shape, with dimensions 3 x 6 inches, these are the easiest tiles to install. There are other sizes available such as 4 x 12, 2 x 6, and 2 x 4 inches.
Here is a brief guide on how to install glass subway tiles to your kitchen.
Step 1 – Apply Tile Mastic
The first step in the installation process is applying the tile mastic. Carefully apply a layer of mastic over the area of the wall where your tiles are to be installed. To make your life easier and for a more consistent application, you may wish to apply the mastic using a notched trowel.
Step 2 –  Installation of the Tiles
The next step is to carefully apply each subway tile. Make sure you take your time, because if one of the tiles is off center, this could ruin the overall look of the room. Start by placing the first tile in the bottom corner from the left and set a row of tiles along this bottom area. It is important to make use of tile spacers, which are able to separate the bottom of each tile with the countertop.
Once you have applied the bottom layer, you can then begin on the second row above the first row using the same technique. After the mastic has set, you can carefully take out the tile spacers. Make sure you wait at least 24 hours before doing this.
Step 3 – Pack Grout into Joints
Once the tile spacers have been removed, you can then pack grout into the joints of the tiles. Fifteen minutes after application, there will be a haze over the tiles, which you can then wipe away. We would then recommend you leave the grout to dry naturally for at least one day.
Step 4 – Apply the Caulk
The final stage is to apply caulk to the backsplash. This is a simple process where you can use a caulking gun to carefully apply a thin line of caulk around the border of your backsplash. It is important to smooth the caulk with your finger to produce the best effect.
If you are still on the lookout for subway tiles, make sure you visit Belk Tile, who have an excellent range of subway tiles for sale.