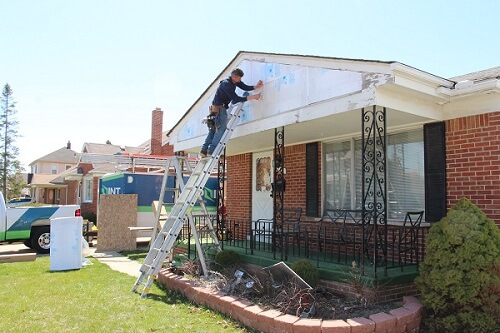 Vinyl siding used to be the go-to option for most homeowners, but this is no longer the case. Some homeowners are looking for more affordability, while others might be looking for a vinyl alternative that offers a different type of style. No matter what the reason may be, it is becoming increasingly evident that vinyl siding is no longer king of siding or the most obvious choice for your home. This means that it is time to learn what the alternatives to vinyl siding really are and if they are actually worth it.
Here are the top alternatives to vinyl siding:
Wood
One of the most popular alternatives to vinyl siding is wood. The great thing about wood is that it is really easy to work with and it is a vinyl siding alternative that is actually really affordable. However, if you choose a grade of wood that is designed to last and offers the most aesthetic appeal, it can be quite expensive. This means that wood is not always the cheapest choice. It can also be really tedious and expensive to maintain wood over time because this is not the most durable option for your home.
Fiber Cement
One of the newer alternatives to vinyl siding that is quickly gaining a lot of steam is fiber cement, with brands such as James Hardie exploding to the forefront of the fiber cement siding industry. This is an alternative that is a heavier type of siding and if you have durability in mind, this is the siding option that you would choose. It is a siding that is designed to last and it is the top choice in really hot climates, but can also hold up in harsh, cold climates which might explain why more and more people have been turning to James Hardie siding in Ann Arbor, Michigan. The only real downside is that it does not offer a lot of style to your home, which can be a major downside. The siding option that you choose should add some sort of value to your home, but fiber cement does not always add the amount of value that you desire.
Stucco
The thing that you will notice about stucco right away is that it has a very distinct look. This is ideal for homeowners that are looking to create a very specific style for their home. This is a siding that looks really nice but it also is designed to offer a lot of durability. It is so durable that stucco can actually last a lifetime if it is maintained properly along the way. This means that stucco can be a great investment, but it also comes with a pretty hefty price that you must be willing to pay.
Engineered Wood
Wood is not always just wood. It is now possible to choose an alternative to vinyl siding that is actually referred to as engineered wood. This has the look of wood but it comes from a factory. One of the biggest benefits to engineered wood is that it does not create hazardous dust when it is cut. Although this is a durable option for your home, it is an alternative that is not ideal when it comes to moisture. This means that it might not last.